If you are a customer who both wants a multi-utility residence with a convenient commuting location and wants the place to be an effective income-generating investment solution, then King Crown Infinity is a great choice.
"Double Key" opens double benefits
Like the brothers of Duplex apartments, Dual Key apartments – double key apartments or "apartments in apartments" are increasingly developed and attracted in many real estate markets over time.
Although recently appearing in developing countries, Dual Key apartments have existed for quite a few decades in Sweden, Japan, and the United States. In Vietnam, Dual Key apartments were introduced in 2016 and quickly created a trend, becoming the choice of many multi-generational families.
With a smart design of a couple of apartments, the Dual Key apartment at King Crown Infinity is actually a large nest consisting of 2 small apartments, sharing the same entrance, but each apartment has its own key, with a living room, bedroom, kitchen system, and private bathroom. The unique design is both public, private, separate, and harmonious so that the owner can exploit two purposes at the same time: both for living and investment.
This is the reason why Dual Key model apartments create a separate market, less affected by market fluctuations. Because apartments like these solve the real needs of a few groups of customers in the market. For the families of the Three Great Halls or the Four Great Families, dual Key apartment helps the home to be more complete when the whole family always lives next to each other, has time to be close, to care, to love, and care for each other but still ensure the privacy of each object in the family.
For example, for grandparents, it is a quiet private space to rest and relax, for children and grandchildren, it is a modern, independent space to enjoy. Nuclear families or single owners can choose to live and rent out or subdivide the space for other purposes. This helps to increase the efficiency of the apartment as well as increase the profit margin from this fixed asset.
With those advantages, Dual Key apartment is the solution to settle down – an effective investment chosen by many people today. However, for the rental investment to achieve high performance, buyers should choose projects that own Dual Key apartments in the central area, where there is a dense population and a concentration of many businesses, manufacturing plants…which are locations with high demand for apartments.
King Crown Infinity – an effective settlement and investment solution
Possessing a convenient location in the heart of Thu Duc City, King Crown Infinity's Dual Key apartments are expected to create a boost for the East real estate market.
With a beautiful location when located on the frontage of 2 arterial roads of the creative city, Vo Van Ngan and Nguyen Ba Luat, King Crown Infinity becomes the focal point connecting 6 creative hubs of the New City. In which, Vo Van Ngan Street is the backbone of the arterial road with an important position, likened to Nguyen Hue Boulevard (District 1) of Thu Duc City.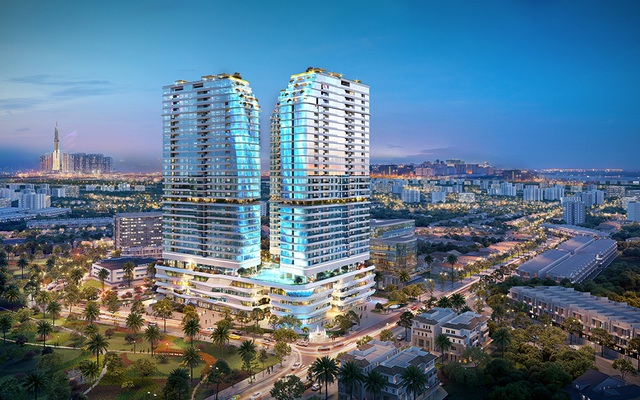 Possessing convenient coordinates in the heart of Thu Duc City, King Crown Infinity is a rare project that owns an apartment that can be both lived in and rented out.
The project is located next to 3 stations of 6,7,8 of metro line 1. Of which, station number 7 at University Village – Thu Duc City's new CBD Center is only 500m away from King Crown Infinity. This radius is considered a beautiful coordinate, just within walking distance so that people can easily use public transport in moving.
Not only owning a system of more than 25 high-class internal utilities but King Crown Infinity is also surrounded by dense external utilities when located adjacent to Vincom Trade Center, Tu Duc traditional market and school system, hospitals, churches … bring homeowners a new standard of living, more comfortable, more worthy.
Industry experts say, with a beautiful location – the hot spot of the East real estate market, adjacent to the high-tech zone and Thu Thiem financial center, where a team of experts from many countries around the world lives and work. King Crown Infinity is not only an ideal place to live but promises to attract a steady and long-term tenant.
Located at 218 Vo Van Ngan, Binh Tho Ward, Thu Duc District, King Crown Infinity luxury apartment and commercial complex is developed by BCG Land Joint Stock Company – a member of Bamboo Capital Group. Expected to be handed over in 2023, King Crown Infinity is expected to become a new symbolic work of the Creative Urban Area in the East of Ho Chi Minh City. Customers interested in the project can visit the website www.kingcrowinfinity.com.vn for more information.
Ánh Dương
Theo Nhịp sống kinh tế