For real estate investors, location is the most important factor before every decision to "down the money". That's why King Crown Infinity became a super product that made the Thu Duc real estate market bustling in late 2020 and early 2021.
On the morning of December 31, Vice Chairman of the National Assembly Uong Chu Luu presented Resolution 1111 of the National Assembly Standing Committee on the establishment of Thu Duc City to the leaders of Ho Chi Minh City, marking the first time the establishing a "city within a city" directly under the Central Government. Bordering districts 1, 4, 7, 12, Binh Thanh and bordering Binh Duong and Dong Nai provinces, Thu Duc City (East area) has an extremely important geopolitical position in regional linkage, becoming a new growth engine for the whole HCMC.
With a central position in the "golden triangle" area of Ho Chi Minh City, Dong Nai, and Ba Ria – Vung Tau, for many years, the East area has been strongly invested in infrastructure by Ho Chi Minh City with a series of key traffic projects, leading to a strong attraction for large-scale real estate projects from many large-scale investors. This area in recent years has become the most exciting real estate market in Ho Chi Minh City. Notably, the central area of Thu Duc district, with an important position of the entire East area, continuously witnessed waves of dizzying price increases. In tune with this wave, the newly launched King Crown Infinity project is favored and sought after by real estate investors.
Beautiful coordinates and thousands of utilities
Located on two fronts of Vo Van Ngan and Nguyen Ba Luat streets of the center of Thu Duc City, with developed infrastructure and synchronous traffic that easily connects to other areas, King Crown Infinity is not only an ideal residence with a diverse and classy utility ecosystem but also a wise investment when possessing strong potential for price appreciation in the future.
"Vo Van Ngan Street is the lifeline, backbone, important position, like Nguyen Hue Street (District 1) of Thu Duc City. If investors have witnessed the galloping price increase of real estate in Nguyen Hue Street in the past time, they can also imagine the same price increase of Vo Van Ngan Street in the future." an investor commented.
Located next to Truong Tho ward – the new administrative center of Thu Duc City, King Crown Infinity is also the connection point for 6 creative hubs of the New City. In particular, with a strategic location when only a few minutes away from the high-tech park, about 10 minutes drive from the National University of Ho Chi Minh City and 15 minutes from the international financial center Thu Thiem, the project is really a place to settle down – an ideal investment not to be missed.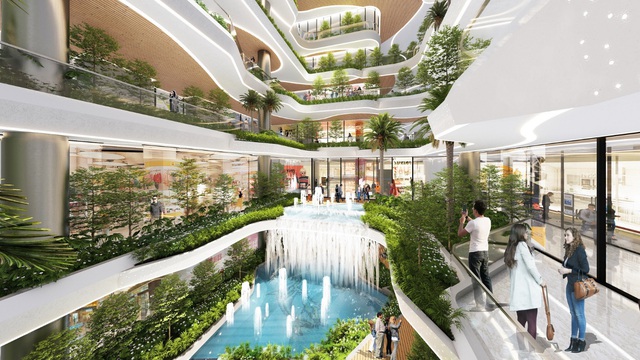 High-class internal facilities help the project increase investment advantages
In addition to holding in hand the core factor that determines the potential for real estate price increase is location, King Crown Infinity is also increased by the investor when focusing on investing in the design and taking care of a high-class utility system such as the first indoor pedestrian street in Vietnam inspired by Namba Park (Japan), the lazy river connects swimming pools, libraries, children's play areas … bringing absolute comfortable living standards for elite residents.
Experts predict that in the coming time, this area will attract a large number of experts and highly qualified workers at home and abroad to live and work, leading to an increase in the demand for high-class housing. This is also the reason why investors actively hunt for real estate projects in the central area of Thu Duc City such as King Crown Infinity because the potential for future price increases and steady and steady cash flow is easily predictable benefits.
Located at 218 Vo Van Ngan, Binh Tho Ward, Thu Duc District, King Crown Infinity luxury apartment and commercial complex is developed by BCG Land Joint Stock Company – a member of Bamboo Capital Group. Expected to be handed over in 2023, King Crown Infinity is expected to become a new symbolic work of the Creative Urban Area in the East of Ho Chi Minh City. Customers interested in the project can visit the website www.kingcrowinfinity.com.vn for more information.
Ánh Dương
Theo Nhịp sống kinh tế